CASE STUDY: BUILDING 10
What is Peeple?
The idea for Peeple was born after Chris Chuter, David Genet and Craig Sullender of Building 10 won a hackathon with Chris' idea for a WiFi-enabled door peephole camera. Peeple is a much sought after, innovative product that is anticipated by urban dwellers and any vulnerable person wary of who could be at their door.
Peeple has gone through a few prototypes, a successful SXSW exhibit and has now enlisted the aid of hardware hitman Craig Sullender to help bring Peeple to market by May 2016 (you can pre-order already). Mongoose OS has been brought on as an IoT solution at the right time in product development to help ensure Peeple delivers an elegant, compact and easy-to-use experience to consumers.
Mongoose OS powers consumer experience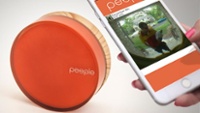 The idea is simple, Peeple is a smart camera that attaches to existing peepholes and easily connects to home WiFi. The user can then easily identify, screen and be alerted to an outside presence via his or her smartphone app. Mongoose OS is used to shorten the iteration loop creating hardware firmware for Peeple. "By using JavaScript, we can easily change parameters on our hardware device to provide the best possible experience for our consumers with the least amount of upgrade headaches," Chris Chuter, CEO and co-founder explains the benefits of working with this Mongoose OS.
Currently still in development, Peeple have high hopes for Mongoose OS: "[...] Mongoose OS will provide the holy grail of development options in which it gives us the performance and speed to be deeply integrated with the hardware, while providing ease of use and the flexibility of a high-level programming language." To achieve this, Chris and his team are working with Cesanta's experienced engineers through our Consulting & Development Services Offering. Here, Cesanta is fine-tuning Mongoose OS to meet Peeple's objectives of network latency and robustness.
Perfect IoT alignment
The development cycle of Mongoose OS aligned perfectly with Peeple's firmware development plans. But what really made the difference for them was that Cesanta fully understands hardware and software: "We needed a partner that would respect the difficulties in developing hardware while providing high-level software development - it's a rare find in development houses." Thanks, Chris, we are happy to deliver!
IoT for startups
"Working with startups, Kickstarter projects and passionate small and medium size organisations is a real thrill for us. There are more and more innovative IoT-enabled products being developed, just like Peeple. Our mission is to make the development process easier for organisations like this. Spend less time figuring out the IoT piece and more time on dreaming big for your product," Anatoly, our CEO, adds this final word to a great working
TRY MONGOOSE - DOWNLOAD SOURCE CODE